Recipe Facts
Servings:
10
Prep Time
10-15 min
Cooking Time
10-20 min

Nutrition Facts per serving

Calories
144
Total Fat
3.8g
Total Carbs
5.3g
Dietary Fiber
1.7g
Protein
21.6g
I add more seasoning, fresh chopped tomatoes and Kalmata olives (chopped or halved) and only use organic boneless breasts. You can use a box grater for the cauliflower.
Denise's Recipe of the Week.
Ingredients
Edit
1 head cauliflower

2-3 pounds of chicken

2 tablespoons butter

1 onion, finely chopped

2 tablespoons ginger root, finely chopped or grated

2 garlic cloves, finely chopped

3 carrots, peeled and sliced

2 teaspoons cumin

1 teaspoon paprika

1 teaspoon coriander

1/2 teaspoon turmeric

1/2 teaspoon cinnamon

1/4 tsp cayenne (optional – the other spices will already add a bit of spiciness to the dish, so only add the cayenne if you want a really spicy dish)

1 red pepper, cut into thin strips

28-ounce can of diced tomatoes (do not drain)

1/2 cup minced parsley or cilantro

2 tsp salt

1 lemon
Directions
Edit
Preheat oven to 375.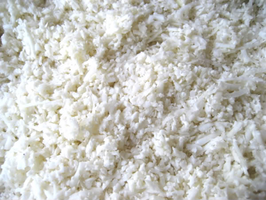 The base of the casserole is cauliflower grated into a rice-like texture. Chop the head of cauliflower into small pieces. Push the pieces through a food processor using the grating blade. 
Spread the grated cauliflower out in a 9×13 rectangular baking pan.
Salt and pepper the chicken. Melt 1 tablespoon of butter in a deep pan over high heat. Add the chicken, browning well, about 3-5 minutes a side.